Material design is one of the hottest trends of the last 2 years. It started as a set of guidelines for Google services, as a means to unify their user interfaces. But today many professional designers adopt its principles - just because it is usability-focused and looks cooler than simple flat design.
If you want to start designing material websites and apps like a pro, first check out what Google says about this trend, then browse this gallery of free material design resources and pick something for you. The 40 freebies featured here will become a nice launch pad for a project of any size.
---
---
The roundup is divided into 4 sections: backgrounds, UI kits, icons and frameworks. Each of them is essential if you want to master material design.
---
Material Backgrounds
40+ Material Design Backgrounds
A set of 40 free material design backgrounds in high resolution. It is available in both raster (.JPG) and vector (.AI) variations, so you can edit them as you see fit. These backgrounds come in a variety of shapes and colors, making it possible to apply them to any web- or printed project without any changes.
---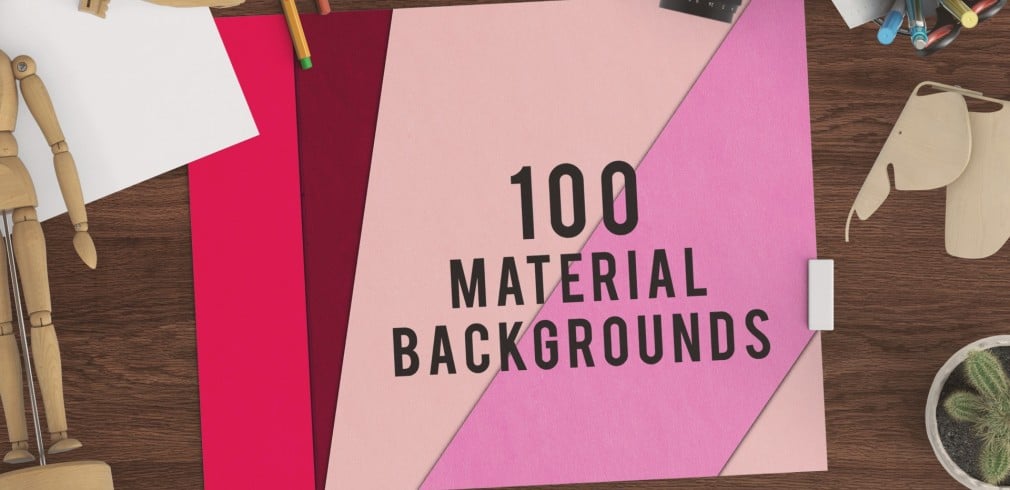 Browse through 100 professional backgrounds to find just the right look for your latest project.
---
Free Vector Finder
Using this free vectors download search engine you'll be able to find any possible material design or any other freebie in a matter of a few minutes. Having a huge database of files all you need to do is to add a search term and enjoy!
---
10 Material Design Backgrounds
This pack includes 2 background designs multiplied by 5 color combinations. They feature high resolution (5000*3000px) and high definition (300 dpi), and are free for personal and commercial use.
Material Design Backgrounds
This free set contains 5 material backgrounds of bright colors – blue, pink, green, orange and yellow, that are available in .JPG format.
---
New Set of 30 Material Backgrounds
This huge collection of 30 backgrounds uses carefully chosen colors, stylish noise textures and a broad range of shapes: squares, rectangles, triangles and circles. It comes in .PNG and .AI formats.
---
Free Material Design Promotional Backgrounds
We recommend using these material backgrounds to make banners featured images for your blog posts, because their diamond-shaped areas perfectly fit this purpose.
---
Free Set of Material Design Backgrounds
Another great creative mini-pack including 5 bright material wallpapers.
---
Colored Modern Material Design Vector Background
This material background in .EPS format is released under the Creative Commons (Attribution 3.0) license. Since it's based on vector objects, you can easily customize it in terms of shape and color.
---
5 Free Material Design Backgrounds
A small free set of colorful material backgrounds containing 5 high-resolution .JPG files. Its premium version offers 40 such backgrounds for $5.
5 material design banners on an 1140x600px resolution. Use them to create featured images, headers, backgrounds for your artworks, or just as desktop wallpapers.
---
Free New Set of Material Design Patterns
8 highly detailed patterns. Unlike other backgrounds on this list they are seamless, which means you can apply them to a surface of any size without sacrificing the quality.
---
Material UI Kits
Android Material Design UI Kit Sketch Resource
Google is a major trendsetter in the world of design, so no wonder that material design freebies are available for Sketch. This free UI kit offers a variety of user interface elements: menus, buttons, speech bubbles, and more.
---
This tiny material UI kit will be at use for both Photoshop and Sketch users. It looks lively and energetic, so it can be freely used to design a music-related app or mobile version of a website.
Cisco is a premium PSD UI kit including 30+ Android screens based on 100% vector shapes. The demo contains 10 screens, and is free for download.
---
5 Incredible Infographic Templates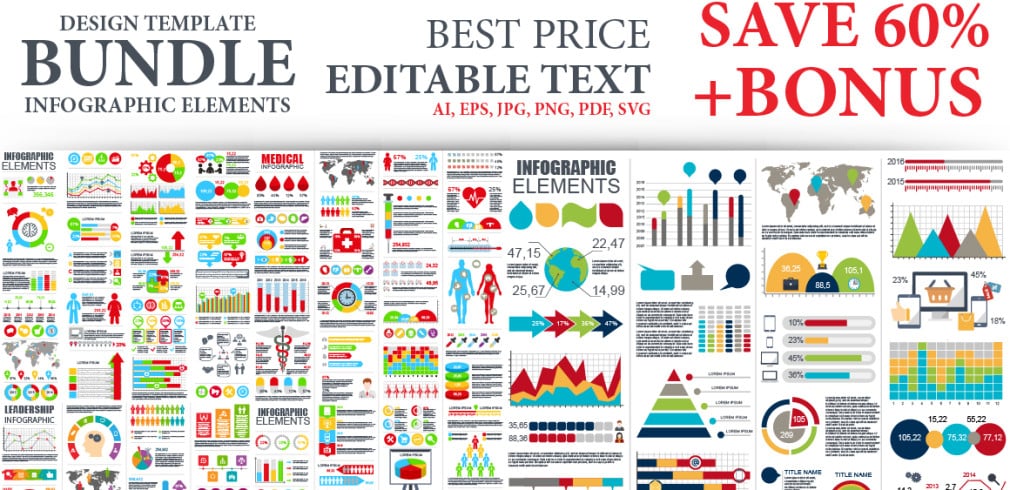 ---
The guys behind InvisionApp know exactly how to promote their services via freebies: their free UI kit dubbed Do is just immense. It contains 130 screens, 10 readymade themes and 250+ design components. And it's free, no kidding.
---
150 Icons + 24 Design Templates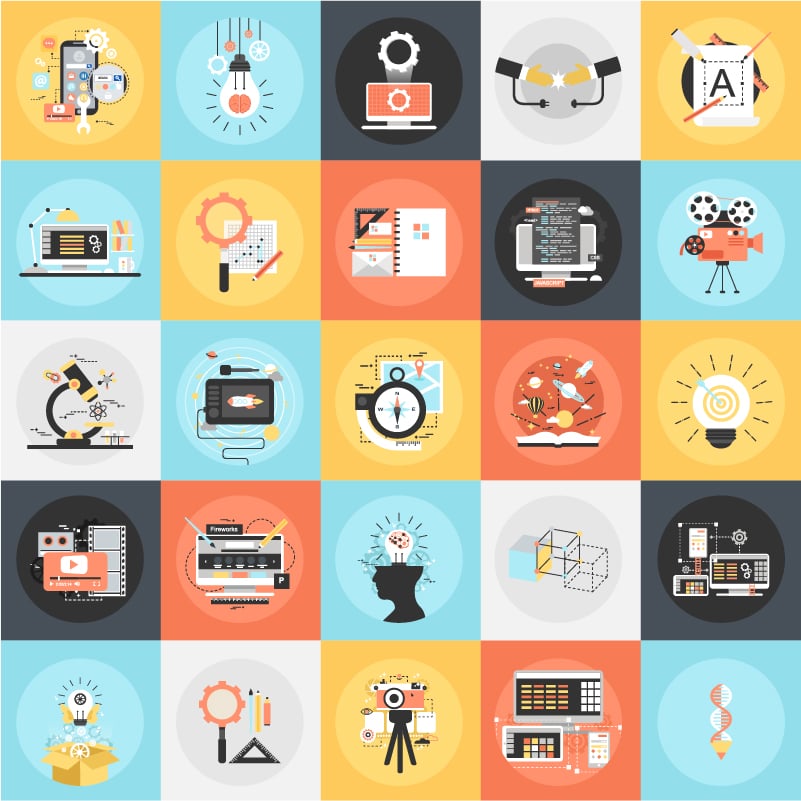 The icons and templates included are not only beautifully drawn and juicy – they're also conceptual, so picking up the one that fits your project will be super easy. What's more, they're fully editable and 100% vector.
---
"BankTag" - Free Material UI Kit
BankTag is a clean Sketch UI kit for financial mobile applications. It includes 13 nicely designed screens with a variety of elements.
---
DiscoMusica is a multipurpose colorful UI kit suitable for both web and app designs. Due to its structure it can be used for creating an educational website with online courses. This freebie is available for Sketch.
---
Component Based Material Design UI Kit
This free material UI kit for Photoshop is another great and easy way to design a mobile app without a trouble.
---
Crystallize Free Material Ui Kit
Crystallize is a bright feminine UI kit best suitable for music and beauty websites. It is available in .PSD format.
---
Aptly named, this set of material design app screens will be a great launch pad for your next mobile design project.
---
Sepia Material UI Kit
This UI kit is designed with a palette uncommon for Material design. It includes everything you need to design a stunning mobile application.
---
Material Icons
The most material set of icons is the one that comes from Google itself. The default collection of Google Material Icons features hundreds of them, being constantly updated with new pixel-perfect pictograms. These icons are simple and efficient, that's why they support the design, and don't interrupt it.
---
This set features 6 detailed flat icons with a distinct material feel. They have been packed together into one layered .PSD file for your convenience.
---
1000 Material Design Icons
An impressive icon set comprising over 1000 different icons divided into 9 categories; and each icon comes in 7 sizes.
---
This website with a straightforward name grants you free access to 1000+ material icons. It contains the default set of Google Material Icons plus user-contributed pictograms. all the icons are available for download in several formats including .PNG and .SVG.
---
Another set of colorful flat icons, this time – Android-themed. It features 12 miniatures with flat design and long shadows.
---
Google Material Design – Free Icon Set
This icon set includes 40 weather-related round-shaped icons for mobile applications. They come in 3 sizes: 64x64, 128x128 and 256x256, and are available in .PNG format.
---
Here is a free version of the Nova Icon Pack suitable for any development environment because of the variety of file formats it comes in: .Sketch, .AI, .SVG, .PDF, .EPS, and .Iconjar. It comprises 350 icons – both outlined and filled, while the paid version has 4000+ of them.
---
Server/Hosting Material Design Icons
This pack of colored material icons has been designed for hosting providers. It includes 12 icons with long shadows, and is available in .PSD and .PNG formats.
---
Free Master Set of Material Design Icons
This set comprises various app- and file-related round icons such as Steam, Adobe Illustrator, Adobe Photoshop, Google Chrome, etc., and is, therefore, suitable for app development. In the archive you will find 35 icons in .PNG, .ICO and .ICNS formats.
---
Material Design Icon Templates
This freebie is not an icon in the conventional sense, but rather a vector template in Adobe Illustrator format. With its help you will be able to design your own pixel-perfect material design icons in no time.
---
Material Frameworks
Materialize is an extremely popular CSS framework for those, who love material design. It is supplied with extensive documentation and is, overall, very user-friendly, that's why it has quickly become a favorite frontend framework for many web developers.
---
Material UI is among the most frequently mentioned frameworks, along with Materialize. It is built on React – a JS library for building user interfaces, and tuned up to make it easier to create material websites.
---
As its name implies, Material Design Lite is a lightweight and simple in use. However, this trait doesn't make it limited in functionality. This library of components gives you a hand at implementing such modern design elements as cards, sliders, toggles, and many more.
---
MUI is a lightweight CSS framework that follows Google's Material Design guidelines. Just as Material UI, it works on React JS library, so there will be no problem in mastering MUI if you are familiar with this tool.
---
Angular Material is a UI framework for users of AngularJS. It gives you control over a massive collection of user interface components compliant with the Google's guidelines for material design.
---
Polymer is a Google's project whose content tab 'Paper' (marked Md) is fully oriented at material design.
---
Material Foundation
ZURB Foundation is a framework especially popular among Magento developers. This is the material design version of this framework. It combines the coding principles of the original ZURB, but is optimized for creating material-inspired websites.
---
For those, who think Bootstrap is the only viable framework (yeah, Bootstrap chauvinism, nothing wrong with it), we present this Material Design for Bootstrap theme. It's material, it's for Bootstrap - what else do you need?
---
LumX is a front-end framework based on Google Material Design.
---
Ionic Material
Ionic Material is the extension library to the Ionic mobile app framework.
---
It's difficult to find free (and even premium) material design resources, which follow all the Google's guidelines for Material design. But, on the other hand, it's not that important. After all, design is all about creativity, and there is no creativity if you follow all the rules.
Stay creative!