Vintage Fonts. Do you know why the Lobster font is often called a "new Comic Sans"?
Good design should be invisible, and the main problem with Lobster is that it has a very distinctive character. Once you know what Lobster looks like, you will not mistake it for anything else. Using this font is like wearing forest camouflage in a desert. You can blame Helvetica for being generic, but at least it doesn't cause you Déjà vu each time you see it on a poster.
Did I mention that it's also terribly overused? My professional designation as a newbie wannabe part-time designer makes me see Lobster everywhere: on billboards, flyers, packaging, and logos.
"Hey, I'm Lobster, you might have seen me 100 feet ago on the previous billboard!", - screams each third design in my town.
The worst thing about this font is that amateur designers don't even try to make it unique and (at least) use alternative characters. They just place text onto the canvas (sometimes in all caps, which is entire ewww and should be considered design terrorism) and lavishly spice it up with gradients, excessively bold outlines, faux glass, and other vile, outdated graphic effects that make your eyes bleed.
Well, now it's time to stop whining. I clearly understand that not all people are designers, and most of them don't give a damn about which font is used on the label of their favorite yogurt. This was intended to be a hate post about Lobster, my personal font phobic crusade. But then I put the emotions away and realized that I could do nothing about the bad designers and their bad taste. What I can do is make the world of graphic design better by promoting really good typefaces.
And that's why I've brought together 80 of the most beautiful vintage fonts for logo design from my "must have" list. Most of them allow commercial use, so you can even create your logo templates for sale. The download links are just below the infographic so that you can grab them right away.
But first of all, I recommend that you subscribe to the newsletter and become one of the first to visit our gallery of professional fonts. And now, let's get back to our freebies.
---
---
1, 2, 3, 4, 5, 6, 7, 8, 9, 10, 11, 12, 13, 14, 15, 16, 17, 18, 19, 20, 21, 22, 23, 24, 25, 26, 27, 28, 29, 30, 31, 32, 33, 34, 35, 36, 37, 38, 39, 40, 41, 42, 43, 44, 45, 46, 47, 48, 49, 50.
---
I rarely take on the role of a product ambassador, but typography is my passion, so I would like to highlight some of the fonts, which I personally recommend and regularly use in my design work.
This script typeface named after a Russian rock band is exactly what you need if you want to replace Lobster in your designs with something similar, but entirely new at the same time. It delivers the same feel of a bold vintage font, but has rounded edges, stylish flourishes, and alternative characters, and is more condensed.
---
Nexa Rust is a large font family perfect for all kinds of vintage designs. The free version gives you access to 5 completely different fonts: Sans Black, Slab, Handmade, Script and extras. An excellent example of Nexa Rust applied to a logo design is the Timber vector pack by Pavel Korzhenko. You can download it for free on PixelBuddha.
---
---
---
This straightforward typeface is a "must have" if you want to use ready-made logo templates, as many of them are based on Bebas Neue. It comes in three weights and is free for commercial projects.
---
Bartolomew is a free typeface for personal and commercial use and comes with two styles and a pack of hand drawn badges. It is available in two styles – regular and printed.
---
This geometric vintage typeface with a handmade look is best combined with vectorized antique engravings. The full version offers three different styles and alternative characters.
---
Designed by Jeremy Vessey, one of the most successful font designers of today, Wayward Sans boasts smooth handmade lines and a set of alternative characters. Unlike Parker (which is on our list too), this typeface can be freely used in your commercial projects.
---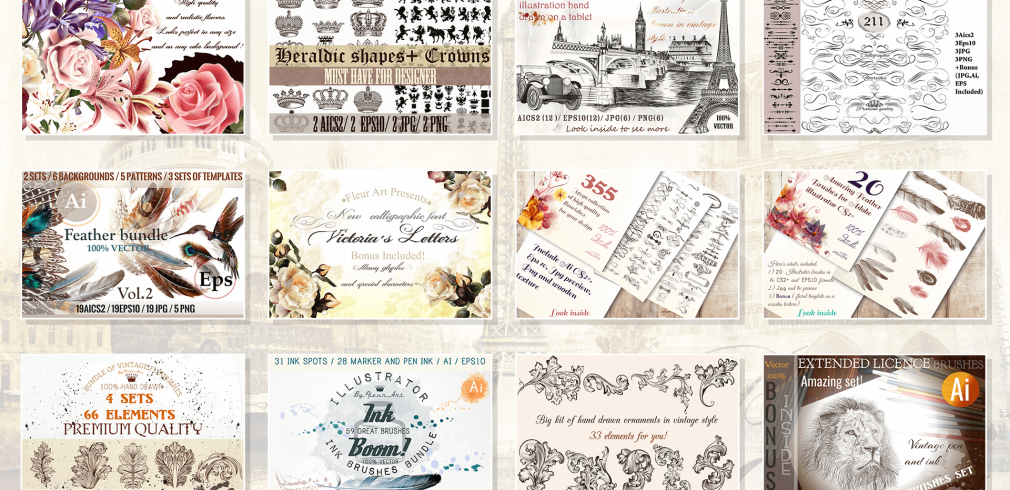 Victoria's letters is hand drawn vintage styled script font for authentic designs. Ideal for invitations, wedding designs and any other vintage and simply beautiful projects.
---
---
---
---
30 Free Vintage Fonts
Font is a cornerstone of any design product because its aim is to make your information look really visually appealing and comprehensible at the same time. Web designers know how difficult it is to choose the right font because you never predict its impact on further existence of your design product. In fact fonts are so various in their shapes, sizes, styles and other parameters that the process of making the right choice can easily frustrate even the experienced web user.
Here you'll find a collection of excellent free vintage fonts that will help you add some spiciness and old fashioned charisma to your designs. Enjoy!
* * *
* * *
* * *
* * *
* * *
* * *
* * *
* * *
* * *
* * *
* * *
* * *
* * *
* * *
* * *
* * *
* * *
* * *
* * *
* * *
* * *
* * *
* * *
* * *
* * *
* * *
* * *
* * *
* * *
* * *
---
Wrapping Up
It's time to throw the overused Lobster away, install a bunch of awesome vintage fonts and start creating cool designs. If you know other free fonts suitable for retro logos, please share your knowledge with us so that I can update this list and my design toolbox.
And don't forget that you can use your new logo to add a stylish retro vibe to your website. You can easily build one using a premium WordPress theme from our versatile collection.
Stay creative!