Free resume templates word! If you apply for the position of graphic designer, it's no big deal for you to download a visually appealing resume template in Photoshop or Illustrator, add your content, and send it to recruiters. But what if you are a lawyer, marketing specialist, industrial worker, or someone else who has never seen dashboards of these programs?
Applying for my first job of a copywriter, I knew about Photoshop only from the words of my overweight friend who used this program to edit his belly on pics.
When I started searching for free resume templates that would present my candidacy properly, I found a diverse roundup of CVs for any profession and taste. There were so many cool designs that I couldn't take my eyes off them and paid no attention to their format when I clicked the "buy" button. Just imagine how frustrated I was in a few secs. I couldn't even open the file since there was no Photoshop on my PC.
Just like most job seekers, I had no time to learn Photoshop. There were so many things to do to prepare for a job interview. And, really, why on earth should I have learned the basics of a totally new program just to create a single resume? Didn't it make more sense to learn something contributing to career growth?
---
So, if you don't know how to use Photoshop or Illustrator like me five years ago, today I want to release your pain and tell you how to make a resume on Word in minutes. All you need is a ready-made CV template.
P.S. If you don't know how to use Word as well, I have bad news for you…
Check out a large roundup of the best resume templates for Word. The fact that they are not in PSD doesn't compromise on their visual appeal. Their designs still look attractive, elegant, and creative, which will let you introduce yourself to recruiters as a worthy candidate. Here you can find both premium templates and freebies (where can a jobless person get money to pay)? What's also cool is that resume templates for Microsoft Word are very flexible in editing. You'll come up with a unique CV in no time, I promise.
---
Collection of Free Resume Templates Word
Let's start with freebies. Although they are available at no cost, their designs don't yield premium alternatives. Check out a hand-picked selection of the best free resume templates for Word.
---
---
---
---
---
---
---
---
---
---
---
---
---
---
This free CV template for Word is designed in a formal tone. Timelines, horizontal bars, and neutral color accents bring a sense of order to the layout. The free fonts used in this resume are Athene, Open Sans, Nevis, and Quilline Script Thin. In its package, you can also access a free cover letter.
---
Clean Resume Template includes 3 color schemes.
Resume and cover letters
Strong typographic structure and very easy to use and customize this cv.
---
A delicate and feminine CV template. This template design presents all the necessary information in one quick glance.
---
When hiring managers will see your resume, don't you want them to think that you are just like that? Of course you do! This template was crafted to provide the perfect framework for your resume or CV.
---
This modern resume template has great horizontal section divisions and uses a pink border and section title colors. Muted, typically feminine, colors work well.
---
This Microsoft Word resume template has an easy-to-scan structure with an imposing image header. With a colorful graph and bars, you can present the information about your skills and proficiency visually. Besides the resume template, this freebie comes packed with a portfolio and cover letter.
---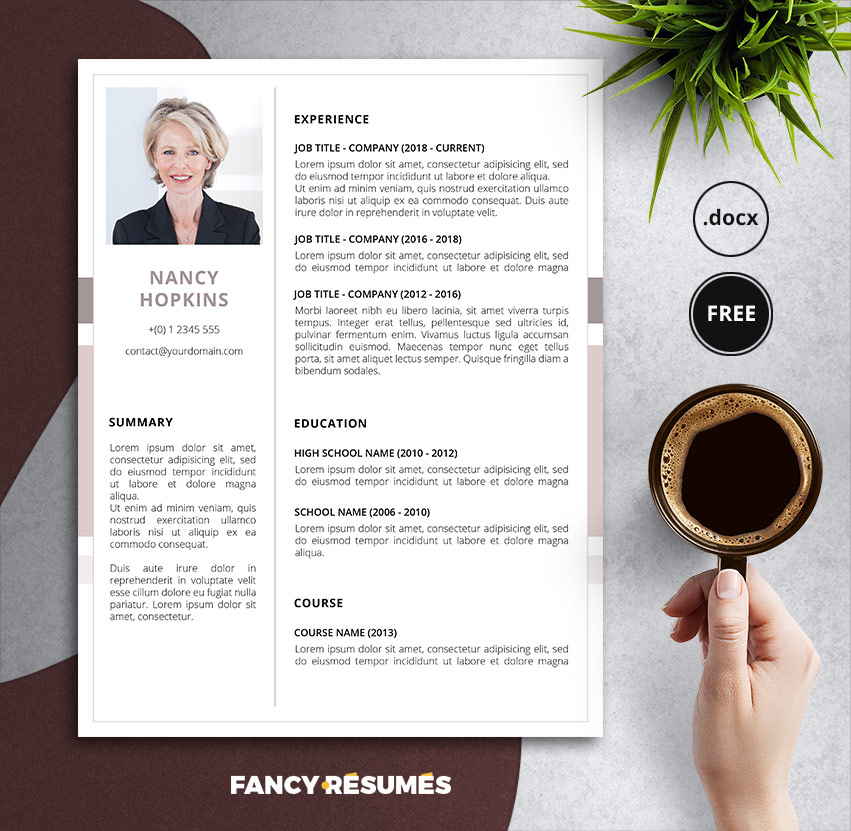 Do you need the perfect side-kick for your job search? You might have just found one! Her name is Nancy. Yes, we did give this modern and stylish resume template a real name because it well deserves one!
---
The layout of this free Word resume template is divided into the area with the main info and the sidebar with secondary details. Its parameters include A4 page size of 210 x 297 mm, 0.25-inch bleed, 300 DPI resolution, and CMYK color model. This print-ready template is available in 3 color versions, namely blue, red, and cyan. There is also a cover letter for every color version and a help file in the package.
---
Golder resume tempalte has a signature design, which is created to grab attention and inspire. All the necessary content section are already mapped out for you. All you are left to do is fill in the blanks, all that remains is to fill them with your information.
---
This free Word resume template has a clean layout of A4 size, 3-mm bleed, and 300 DPI. It makes of various elements to present the info of different kinds. For example, icons show interests and contacts, bars reveal skill levels, timelines guide through work experience and education, etc. A cover letter is attached to the CV as well.
---
This hand-crafted Word resume template with a cover letter is all about elegance and professionalism. Its dimensions are A4 size of 8.3 x 11.7 inches, CMYK, and 300 DPI. Navy color is used to distinguish the sidebar from the main area visually. There is also a totally white version with no navy sidebar for both resume and cover letter templates.
---
If you need single-page resume templates for Word, check out this freebie. It will help you create a tastefully simple CV to look professional in the eyes of potential employers. You will find it easy to edit its typography, wording, and color scheme in Microsoft Word. You'll also appreciate such free bonuses as a cover letter and a business card in the template's package.
---
Using this free CV template for Word, you can engage recruiters with your work history across four pages. Orange accents enhance the content hierarchy so that recruiters could easily scan your resume. They will also be able to print it out in A4 size and 300 DPI.
---
This minimalistic resume template for Word was designed with attention to detail. Larger fonts in green can accentuate the candidate's name in the header and headlines of the main sections. That way, they come into view at once.
---
With this freebie, you will get resume, cover letter, and references templates, all in doc and docx formats. There are also 25 exclusive icon shapes that can be edited in size and color. You can also change both the default candidate's photo and header picture to your liking. The template is meant for RTL and LTR languages.
---
Try to get a dream job with these thought-through Word resume template. It will let you create a two-page resume with all the essential data, from work experience and education to references and social media contacts. All the template pages come in A4 and US Letter sizes. You are free to use the product for both personal and commercial purposes.
---
This minimal Word resume template is designed in the infographic style. With its help, your CV will stand out among others with an extraordinary layout structure.
---
To keep your CV concise and easy on the eye, try this two-column template with a lot of clean space. It comes in three colors, A4 size of 210 x 297 mm, and two Word formats (docx and doc).
---
This simplistic Word resume template is a universal solution to apply for any position in any business niche. Its package contains templates for a CV, cover letter, and references in A4 and US Letter sizes.
---
Looking for classic resume templates for Word? This well-structured design with a black and white palette is exactly what you need.
---
Here's a modern Word CV template meant specifically for female job seekers. Its layout is designed in the tender pink tone. Calligraphy fonts highlight the main resume blocks such as experience, education, skills, etc.
---
Premium Resume Templates for Word
Now it's time for premium resume templates for Word. Don't let the word "premium" scare you away. They won't cost you a fortune. Their prices start at $5, and you'll get more than just a professional resume. Most of these products come packed with ready-made cover letters and business cards.
---
---
Admission to college is a very exciting event for everyone. This template will help you complete this crucial step. Here you can indicate which school you attended and which training you learned. In general, everything that you consider important for your further education and career development.
By default, you will see a page for the designer & illustrator. An inconspicuous bonus is that if you choose the same profession, you do not have to change all the lines with the data.
Here are 5 colors. Choose one of them:
blue, if you prefer peace and want to smoothly join the ranks of college students;
green, if you are cheerful and full of new ideas and ready to study well in order to skillfully translate them;
red, if you are brave, passionately devoted to your idea and ready to move forward rapidly;
gray, to show his restraint and desire to become a professional in his field;
yellow, if you are an extraordinary person with interesting hobbies and useful skills.
Do not forget to indicate in the resume all your achievements. Remember what letters and trophies you have.
So, a correctly compiled resume is your assistant in entering college and looking for a decent job, so it is recommended that you constantly develop your own ability and know how to create a resume. However, this is just a document, it will not replace the wealth of your individuality, which means that you need to learn how to effectively present yourself.
---
Check out a rich resume package with a 100% editable CV template for Word, matching cover letter, reference page, and FAQ doc. There are also 100+ icons for multiple purposes, from social media contacts to interests and hobbies. Every CV element was designed in a separate text box, which means you can move, copy or delete it with ease.
---
Highlight your strong points with this clean CV in A4 and US Letter sizes. Besides the default version in black and white, the template is available in three more colors. The product also comes packed with references, portfolio, and cover letter templates.
---
With this free Word template, your CV will look stylish due to a floral header, light pink accents, and single-line footer. It is perfect for those of you who are looking for a job in beauty and fashion spheres. The freebie comes supplied with a cover letter too.
---
Here's a trendsetter among resume templates for Word. It supports both US Letter and A4 formats. Due to the full customizability, you can personalize its default look the way you like. The fonts used here are Open Sans, Minion Pro, and The Heart of Everything. A cover letter and reference page will also come in handy for you.
---
What makes this simple CV design interesting is a rhombic emblem in the header. This cool element is on all the files in the package, i.e. a cover letter and references template.
---
This Microsoft Word resume template can catch an eye with its color-rich header and orange accents that create a warm, welcoming effect. To adapt the default design to your personal needs, you will be able to edit the entire layout with its fonts and colors. In the package, you can also access a fully customizable cover letter at no cost.
---
Searching for resume templates for Word that can give an edge to your resume? Try this three-page CV with a matching cover letter. The background of its main section is divided diagonally with mild colors, which looks edgy. You can personalize its default look in a few clicks by adding your own text, typefaces, and colors. If you need instructions on how to make a resume on Word, there's a comprehensive guide in the package. As a bonus, you will get a set of 60+ icons for social media and hobbies.
---
---
This modern Word template is notable for a visual distinction between different resume sections. Its header and sidebar are designed in beige and gray colors, while the main area is snow white. With this freebie, you can create a two-page resume in US Letter and A4 sizes, depending on your needs. All the headings, sections, colors, body text, fonts, and icons are fully editable.
---
Give a try to this Word CV template with a skillful color mix, fully customizable artwork and text, and 80 social icons.
---
This professional Word resume template stands out with an elegant frame. It will let you present yourself not only as an experienced candidate but also as someone with a sense of style. The template is fully customizable in terms of formatting, coloring, and fonts. There is also a set of icons editable in size and colors. A help file embedded into the package will guide you through the editing process in detail.
---
Make a strong impression on employers with this outstanding Word resume template. Thanks to its lively design, your CV will never get lost among others.
---
This CV template for Word has a sophisticated design with sleek icons, timelines, and other elements that keep order on the page. The resume file comes in A4 size with 0.25-inch bleed, 300 DPI resolution, and CMYK color mode. The font used in the template is Lato, but you can replace it with the one you like.
---
If you seek for creativity, this holographic Word resume template is just the job for you. Its main visual trick is a gradient color background that adds vibrancy to its thought-out structure. Feel free to change the color and size of the font, image, and background color.
---
Job seekers who have a long work history will find this multi-page Word resume template useful. It has 8 docx sheets with a cover, free icons and font. This easy-to-edit template is available in US Letter size.
---
This one-page resume template for Word is perfect for job seekers who want to keep their CVs concise.
---
Grab a rich package with two modern resume templates for Word, two cover letters, and four business cards. There are two fonts, packs of symbols and social icons, and useful tools to find fonts and colors.
---
The centerpiece of this eye-catching Word resume template is a watercolor background. Besides the CV profile in A4, you can download a matching letterhead from the package.
---
Would you like to present yourself as a serious and self-disciplined candidate? Make use of this CV template for Word in the reserved style. It provides a resume, cover letter, free fonts, icon set, and instructional guide.
---
This two-page Word CV template in a floral theme will help you get noticed among other candidates. You can present your social media contacts with pre-packed PNG icons that are ready to use in Word.
---
Here's a full set of printable resume, reference page, portfolio and cover letter in Microsoft Word (docx and doc). A neatly designed layout with a classic palette and typography will help you create a high-impact CV.
---
Here's another freebie to present your candidature to the best advantage. This minimal Word resume template has a two-column layout with minor orange accents underlining headlines of the main sections.
---
Check out an all-in-one package with ten pages for different purposes. They include a professional Word resume template, cover letter, reference, experience, five portfolio versions, and even a "thank you" page. All the files are available in US Letter size with 0,125-inch bleed and A4 with 3-mm bleed for printing.
---
Don't want to bother about organizing your CV info in a recruiter-friendly way? It's been done for you in this print-ready resume template for Word in 300 DPI resolution.
---
This business Word resume template has a non-standard layout structure available in three color versions, i.e. black, white, and blue. You can use it in both A4 and US Letter sizes. The same goes for a cover letter in its package.
---
This avant-garde Word resume template combines simplicity with creativity in its design. Available in A4 and US Letter formats, the template makes use of PNG icons, paragraph styles, and free fonts.
---
Do you need resume templates for Microsoft Word that will make your candidature memorable? This well-crafted CV template in A4 and US Letter is a perfect option for you. It consists of two pages, but you can actually add as many as you want. Its header, layout, fonts, artwork, and colors are all editable in a few clicks.
---
This two-page resume template for Word has a strong typographic structure, where the main details are accentuated with red.
---
Here is a versatile Word resume template in the engaging infographic style. Along with the CV, you'll get a cover letter, 50+ social media icons, 20 hobby icons, and PNG world maps.
---
---
Take a look at one of the cleanest resume templates for Word. Its fully editable design comes in 300 DPI resolution and A4 and US Letter sizes. The fonts used here are Open Sans and PT Sans.
---
This high-quality Word resume design is remarkable for an exquisite frame. Its package also contains a cover letter, over 60 multipurpose icons, and 19-page guide.
---
This CV template for Word has a scannable vertical design that you can edit from top to bottom. Its typography, wording, layout, and colors are fully customizable. The package includes resume versions in A4 and US Letter sizes and 80 social icons to use across the layout.
---
This bright CV template is an ideal option for graphic artists, fashion designers, and other creative personalities. Its striking header, contrasting 'About Me' section, and bold titles will help you create an eye-catching resume. You can also send it together with a matching cover letter that you'll also access in this package.
---
Strict and solid Microsoft Word resume template with landscape orientation only. Will fit perfectly for financial consultants and other "blue collars".
---
One of the resume templates that make your potential employer look closer on you. The cover letter template is included in the pack, you can edit it by MS Word, Photoshop and Illustrator.
---
You can always guess a professional resume template by its designing quality. Every detail is in its place and fits perfectly. Has a portrait and landscape orientation.
---
This one is a really modern resume template that highlights all that your potential employer has to see first. Color scheme is highly contrasting but pleasant for an eye.
---
A creative resume doesn't have to be a burst of colors to be efficient. This one is really simple and strict, but it will surely attract attention.
---
This Microsoft Word resume template looks like a fancy website. And it doesn't matter it would be printed on paper.
---
I love this combination of black, gold and white, it is very aristocratic. This resume template will be a perfect choice for everyone who would like to have a really big salary.
---
It may seem that all the professional resume templates look the same but look a little closer. There is nothing more important than details and each of them shows different sides of your professionalism and personality.
---
This one is highly flexible and customizable. You can create it with or without a photo, save it in one of four formats, including .psd and .pdf. And there is business cards template included.
---
With this template you get, actually, three variants of the resume template in different colors and with different layouts. Your resume is almost done - you only need to fill and print it.
---
Creative resume templates fit better for a designer or art person. Original photo frame, interesting fonts and a nice color scheme are just what you need to impress the employer.
---
Your CV built on this Word resume template will look like an interview with a celebrity in a stylish magazine. Any employer will notice that.
---
This one not really a creative resume, but surely is efficient. Nothing redundant, but everything is on its place. This one is for people who seek a serious and competitive job.
---
This modern resume template is not only bright and catchy but also includes a bonus icons pack to make it more original.
---
Minimalism is a modern trend and designers use it in pictures, ads and designs. With this Microsoft Office Word resume template, you will show that you are up to date and have a certain taste.
---
A well-prepared resume is a guarantee of receiving a prompt invitation for a job interview. With these professional templates, you'll have an opportunity to create such a resume quickly. There is no need to master Photoshop, Illustrator or any other programs. Your basic skills in Word are more than enough.
In this roundup, you can access CVs designed in various styles and suitable for any budget. Choose the template appealing to you the most and turn it into your own CV. Do you still need a wider choice? Look through 30+ resume templates in my previous article for Word and other formats. If you need a guide on how to create a win-win CV with minimum efforts, hurry up to read this exclusive tutorial from TemplateMonster recruiters.
P.S. Some of your friends may not know that creative CV templates are available in Word. Share this collection on social media to let them know.
---
---
I bet you have heard something about resumes, CVs, and cover letters in our modern world. These are some stuff you have to pick up with you when you are going to a job interview or send them with the help of e-mail to your potential bosses, so your employers can find out more about you, your previous places of work, your experience and so on. Much depends on the resume and the way how you added and arranged your personal information there, so your boss can rate your skills of doing this and he could or could not hire you. These resumes are not an easy process to create because it is necessary and important to arrange the information properly and clearly. For creating a resume you need some basic Microsoft Office Word skills to add the text and maybe some Adobe Photoshop skills to add the design. As you can see, it is a long and painstaking process. If you are a beginner in Photoshop and designing and want to avoid doing these difficult steps, I offer to you to use modern resume templates. Firstly, why use resume templates? Because when having a template, you just fill your personal information and do not think about the design and how to introduce it better. Everything is made especially for you, all the designs and columns. Secondly, why use modern templates? Because with modern resume templates you will look more stylish and modern. It will create a feeling that you know something about modern trends and what are the newest trends in that field. So, check out the following article where you can find the newest selection of a lot of modern resume templates. Here you can find more than 60 free and premium templates. So, take your time and enjoy choosing your modern resume template!
Top 5 Modern Resume Templates
As you have already understood, resume templates help us to create a better CV, resume, and cover letter. Check out the following 5 modern resume templates. Choose only the characteristics you need to know about and then it will be easier for you to choose the one template you need. Take your time and look through these resume templates.
---
60 paid & free resume templates word 2022
---
Subscription for resume templates
By the way, we have started a new subscription service which is called ONE! Let me tell you about this cool phenomenon. For a whole month for only $19 you get any product from the subscription service! What can be better than a whole month of great possibilities to download any item you want to! If you are interested in resume templates, you can visit the link Resume Templates to see which ones you can choose. If you are a blog reader, I recommend you to take this opportunity because with the promo code BecomeThe1 you will get 5% off!
Free Resume Templates Word FAQ
Read Also
30+ Best Free Resume Templates in 2020
30 Free Printable Resume Templates 2020 to Get a Dream Job
12 Tips On How To Make The Perfect Resume or Why TemplateMonster Recruiters Trashed My Friend's Resume
Create an Online Resume with the Help of 10 Best Website Templates
10 Best Wedding Website Builders of July 2020