One of the main purposes of the email is to promote your product value and show people why they would benefit from buying it. And the bigger the value, the longer your email copy would be, as you don't want to miss a thing, right? But any marketer would tell that a short well-structured text has more chances to drive response than multiple long paragraphs and lists. So how to combine these two tasks - give credit to your product and don't burst brevity banks?
Using GIF may be the answer. The animation is a smart nonverbal way to tell the customers your story without losing their attention along the way. It's a space-friendly replacement for words and digits which may give your campaigns a creative boost and generate more conversions.
---
Why You Need to Consider Using GIFs in Emails
In case GIF's versatility still remains undiscovered by you, check this list to see why animation and emails are called a match made in eCommerce heaven. We recommend you incorporate some GIF elements in your campaigns because of they:
bring results, according to Marketing Sherpa, an email with animated elements has a better click rate (42,6%) and conversion rate (103%). Looks like the juice is worth the squeeze;
trigger customers' engagement and boost response;
make campaigns more dynamic and entertaining;
please the eye and liven up plain-text emails;
set the mood and convey emotions;
tell the story without words;
deliver practical information (instruction, product illustration, functionality display, how-to);
connect with the content or promoted event;
can be personalized, incorporating brand image elements;
draw attention to the most important parts of the email;
replace static images or serve as a background;
can substitute a video, being smaller in size;
easy to manage without tech skills;
supported by most email clients.
---
Things to Keep in Mind
Despite its numerous advantages, animation should be applicable to your service, campaign-style, and general communication pattern. Animated flowers in the email by a gift shop or flower shop are rather appropriate; animated flowers in the email by a funeral agency would look a bit out of place, if not offensive. We're actually not sure if funeral services send campaigns at all, but you've got the idea. Following creative trends is awesome; following logic and common sense are priceless.
But if GIFs are exactly what you've been looking for, and you're planning to include one or two into your next campaign, pay attention to the following:
Size. Your GIF size shouldn't exceed 2MB.
Duration. More frames = longer duration = larger size. If you create the GIF image in the editor by yourself, remove all the frames that are unnecessary for movement reading.
Color. The same rule applies to color palette as well: more colors = larger size. When making a GIF of a colorful photo or video, change the color depth to cut the file size. This won't change the content itself, yet it will make the finished image more acceptable.
Audio. No audio elements are supported by GIF, so if you add a speaking person, even with perfect articulation, make sure you provide subtitles.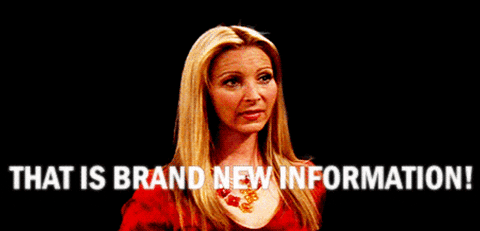 Also note that there are few email clients (for example, Outlook) that don't support GIFs. Their users will see the first frame as a static image, so it should deliver the general message and be understandable on its own.
---
Where to Take GIFs and How to Insert Them into an Email
You don't need to be a codeguru to spruce up your emails with GIFs. To get your creative juices flowing, go to Giphy, or create your own design using any online editor: Filmora Meme Maker, GIFMaker.me, MakeaGIF.com, etc.
Once you've come up with a final image, add it to your email. The steps may differ depending on the editor you use, but the whole procedure isn't complicated. You may download a GIF file from your computer, or insert the HTML code, and make the necessary editing. Most editors (eSputnik, Stripo, Litmus) enable them to do it straight in the email body, then preview the message and make necessary changes, if needed.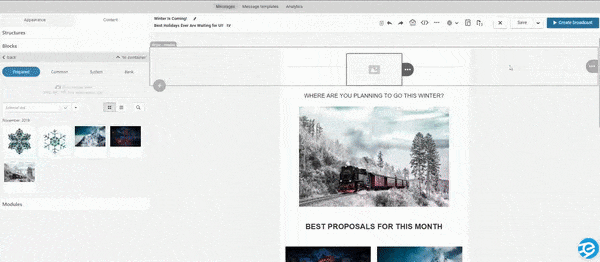 ---
10 Winter GIF Examples by Brands Who Got the Job Done
And as we approach the holiday season, it's time to start planning ahead to your Christmas sales, New Year greetings and St. Valentine's campaigns. In need of inspiration? The below winning holiday campaigns will show where to get started: see how different elements can be incorporated into your holiday email design. Or don't wait until Christmas and start refreshing your email design right away.
Ann Taylor
Even without a single piece of text, you understand you're seeing a Christmas campaign. A well-designed snowflake GIF serves as a countdown timer, showing the clock is ticking and prompting to make a decision.

---
Fundbox
The company managed to visualize the headline From our team to yours and tell the story without extra wording. The animated gift box at the bottom is a smart back up for the custom CTA, and together they work twice as effectively to deliver the campaign message.

---
New Look
Raindrops serve as a background and product support, enhancing the technical characteristics (rainproof/snowproof) of the clothes.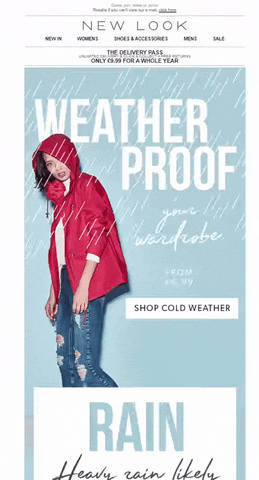 ---
Loft
A couple of animated elements set the festive mood and highlight the most important parts: ends today, 60%.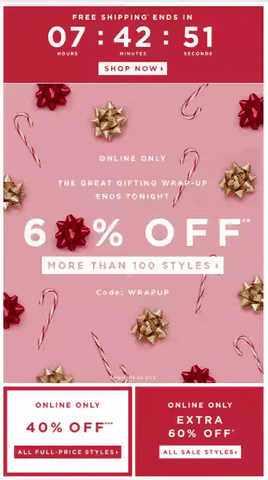 ---
Kate Spade
Simple minimalistic animation makes a good match for as simple and elegant design, setting the atmosphere of a starry winter night.

---
ThredSence
You've got until midnight reminds of Cinderella, Nutcracker and other tales associated with winter and Christmas.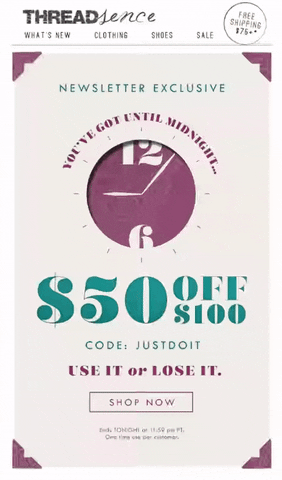 ---
Kidly
Falling snow and penguins are all you need to announce the winter sale.

---
Titan Fitness
The animated star steals all the attention and turns this actually promotional email into a greeting card.

---
Charming Charlie
Not a word about winter or holidays, but the event-related GIF tells the story.

---
Mr. Porter
The animated fireplace adds to the coziness of the atmosphere, making it as casual and relaxed as the clothes the email promotes.
So, as you hopefully see, adding even a little animated element allows to get creative with your content and surprise your audience with a new design. Make sure there is a product or event-related idea behind the GIF, and your email campaigns would definitely make a difference this winter.
---
Read Also
Making a Fancy Presentation: How to Put a GIF in Google Slides
Insert GIF into PowerPoint - Capture the Attention of Your Audience
15 Jaw-Dropping GIF Artists That Will Leave You Breathless
---
Don't miss out these all-time favourites