As a content writer, I often need to format roundups of templates, each requiring a set of 10-50 screenshots resized to a certain width. Earlier, I used to crop, resize and fine-tune images manually, and that was extremely boring and irritating. Then I discovered Photoshop actions, which totally changed this aspect of my work. With actions, I can edit any image in a second.
They are indispensable for photographers, graphic designers and web-designers of any kind. If not for them, you wouldn't be able to purchase these visually perfect design studio WordPress themes for such an attractive price.
In this mini-tutorial, I want to tell you about Photoshop actions and inspire you to automatize your working process; make it more pleasant and creativity-oriented.
---
What are Photoshop actions and why do you need them?
Photoshop action is a sequence of consecutive steps written down to an .ABR file. Everything you do in Photoshop can be recorded and then executed automatically.
---
Mastering actions will speed up your workflow significantly by eliminating the need to perform the same steps each time you edit a photo or an illustration for your Instagram account.
Having a bunch of professional actions at hand you can improve your photos for Instagram without using the boring, overused default filters offered by this service.
---
Most of the actions are focused on photography, and only a small part of them is for modifying type and vector Illustrations.
Many of them use only in-built Photoshop tools (filters, blending modes, etc.), but other, more complex actions (usually premium ones) use external resources – patterns, textures, brushes, which commonly come in the package and must be installed separately.
---
How to install Photoshop actions
As an example, we will use the HDR Tools – a free Photoshop action created by forfie. It is best used for dimmed photos to increase their contrast. This action contains 4 effects: Light, Normal, Heavy and Clicker, each giving a different level of intensity.
The installation of Photoshop actions is as simple, as their usage. In order to install one, you need to simply drag the .ABN file with the action to the Photoshop window.
Alternatively, go to the Actions panel, then press "Load Actions" and select your .ABN file.
---
How to use Photoshop actions
Note: this .ABN file contains numerous actions. In order to apply the one you need, expand the folder and find and select it. Then press the "Play selection" button.
I took a smoggy photo of Cairo – a beautiful city terribly polluted by man. Let's try to restore its natural shine by applying the default effect from HDR Tools dubbed "Normal". I've also tested the "Heavy" effect, but it appeared to be too intensive – at least, for this photograph.
In order to apply the effect select the "Normal" effect and press the Play selection button.
The result will be seen immediately:
Let's compare the processed photo to the original one.
As you can see, the HDR-touched photo is more expressive and colorful (as far as it is possible with a photograph of Cairo :)).
When you open the History panel you will see all the steps performed by the action and analyze them.
Another Photoshop action I would like to recommend to you is DotMan Toolkit – a powerful premium toolkit for adding a comic book style to your designs. It works great with type and illustrations. DotMan is a great example of a complex action, as it comes with grungy Photoshop patterns, which are used by the actions to create the desired effect.
---
Bundles with Photoshop Actions

Super Bundle: Photoshop Actions and Presets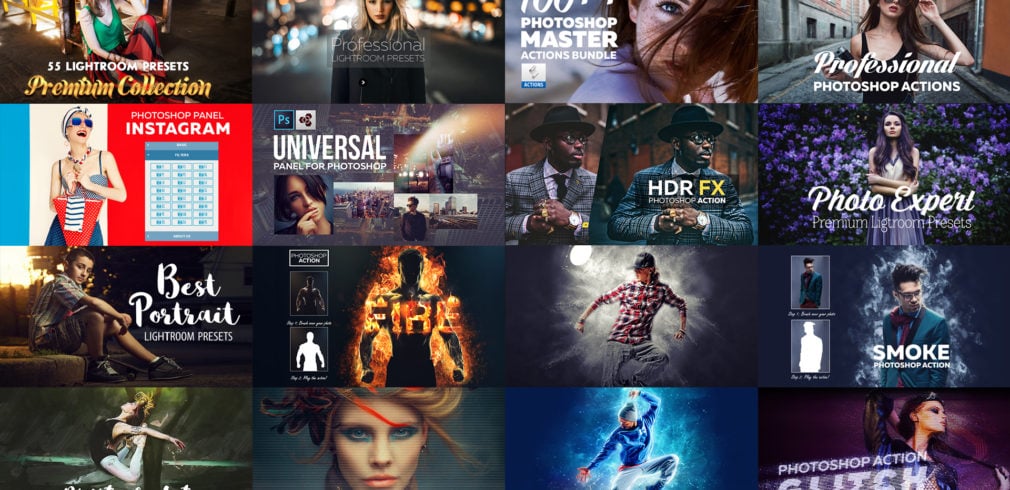 Easy Peasy PhotoShop Actions Toolkit – Only $29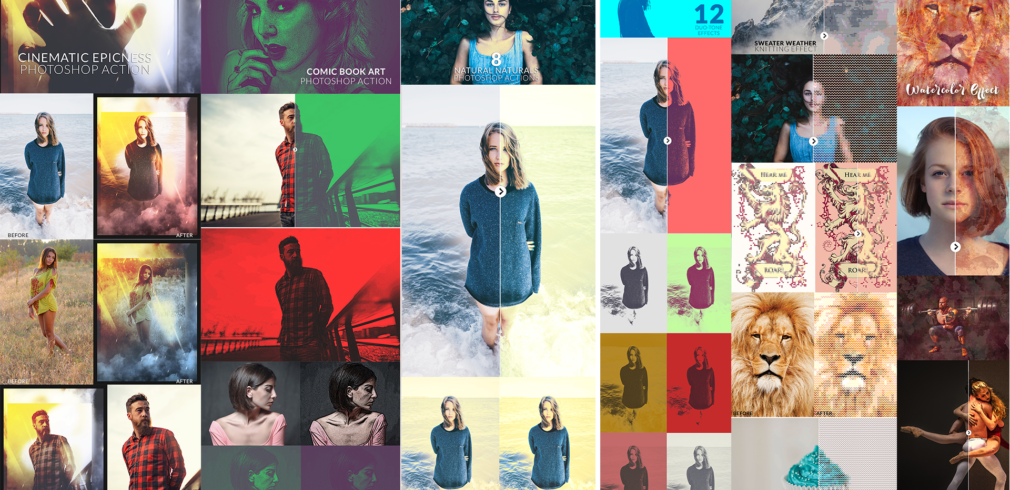 5150 Magnificent Photoshop Actions + Bonus – Only $19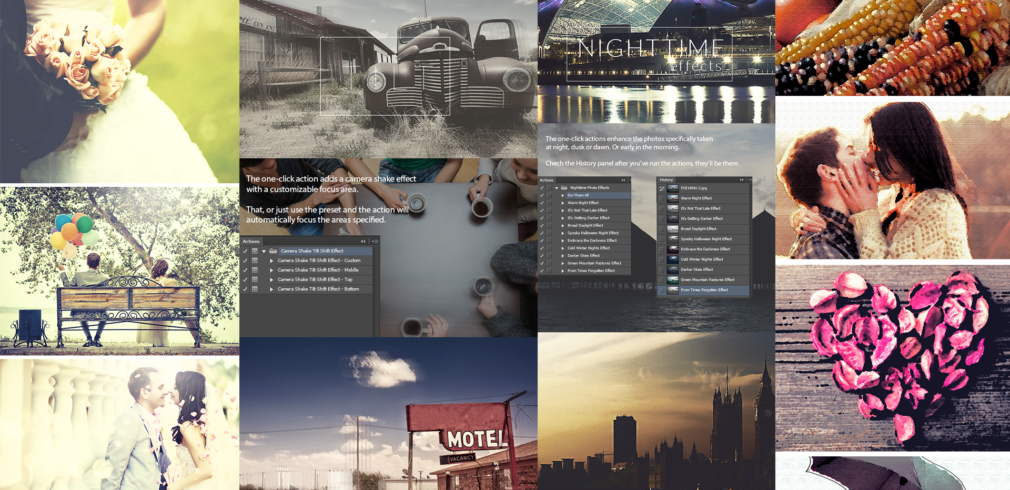 1850 Photoshop Actions with 95% OFF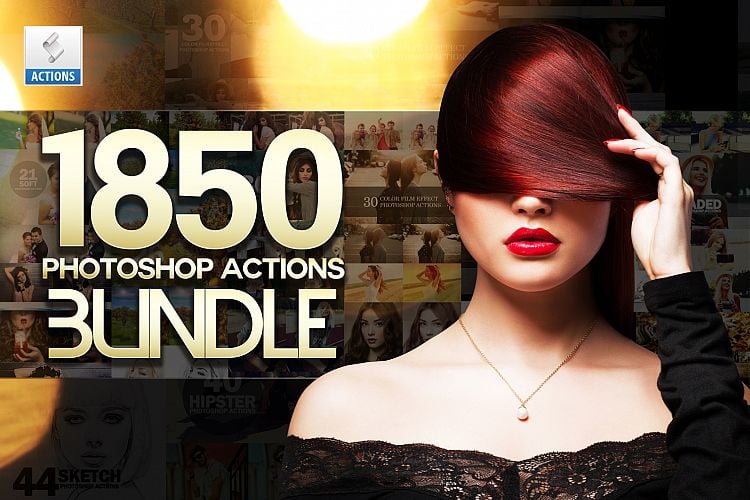 50 Artistic Photoshop Actions – Only $18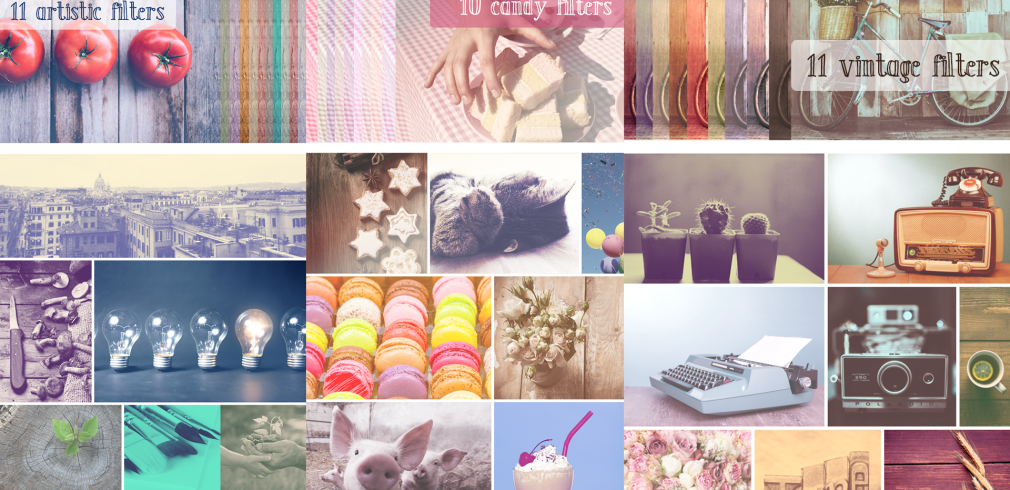 ---
Conclusion
How do you optimize your workflow? Share your experience in the comments section below.
And don't forget to come back for more useful tutorials on Photoshop and Illustrator. Also, check out other educational posts for designers brought to you by our team: