What is this Gutenberg and why is it such a big deal?
I'll start with the mention of WordCamp, a locally empowered conference which users of WordPress organize around the globe. People, CEOs, users, techies, non-techies, and anyone who does and does not use WordPress is invited to the conference because of the vast amount of information it brings about the plugin, web-building world.
Now the word Gutenberg is new and already starting up a storm. It's set to launch in 2018 to WordPress itself and has been a hot topic of conversation amongst the computer community. But what exactly is Gutenberg and why is it such a big deal?
WPCrafter.com explains it as "a visual page builder," which has been a damper on WordPress' overall popularity.
---
---
With new websites seemingly coming out every year, such as Wix, Squarespace, and Webs that have the drag-and-drop accessibility that appeals heavily to new, non-techy users that possess no prior knowledge or experience on professional web building, it seems that WordPress has become unappealing against all these other options.
These almost 'template tutorial' sites grab more of an unreachable audience that seemed like a small or easy step to plugin and coding regulars.
Gutenberg gives WordPress the ability to reach that audience. WPCrafter.com goes on to explain that with version 5 of WP, it will give creators the ability to format their website in "boxes." Now if you aren't new to the game, then you know this is going to change almost everything completely. The premise is still the same, of course, but widgets, shortcodes, and the way one edits text and images are up there with the upcoming changes, according to Matt Mullenweg who is the head of WordPress now.
It is supposed to, in a way, make WordPress at a mutual level with its other integrations. So, for such companies like Beaver Builder, Elementor, and other page builders, they are having to create their own unique way to function with WordPress itself, bringing many complications just with that to the table.
Gutenberg aims to wipe that all out and bring one function for each builder, plugin, or whatever is necessary to make their integration more seamless and easy to access.
For me, it was very complicated to navigate WordPress. I'm pretty good at clicking buttons and figuring out a new concept or idea well. I am also not a stranger to such web builders like Wix and Squarespace. WordPress took a minute to figure out, so for me, Gutenberg seems like an exciting innovation that could launch it ahead of all others because of how ahead of its time it is. Even the drag-and-drop tools and elements used in these 'template tutorial' sites don't have such a format to them, which can be a good and bad thing depending on your web building preference.
Which brings me to the techies. Those who like WordPress themes and its small coding necessity like Katy Perry, LinkedIn, and popular blog, TechCrunch (iTheme.com), who all use WordPress as a host for their site might already be aware of the changes that are coming in the next five to six months.
With that being said, is this the death of WordPress builders completely?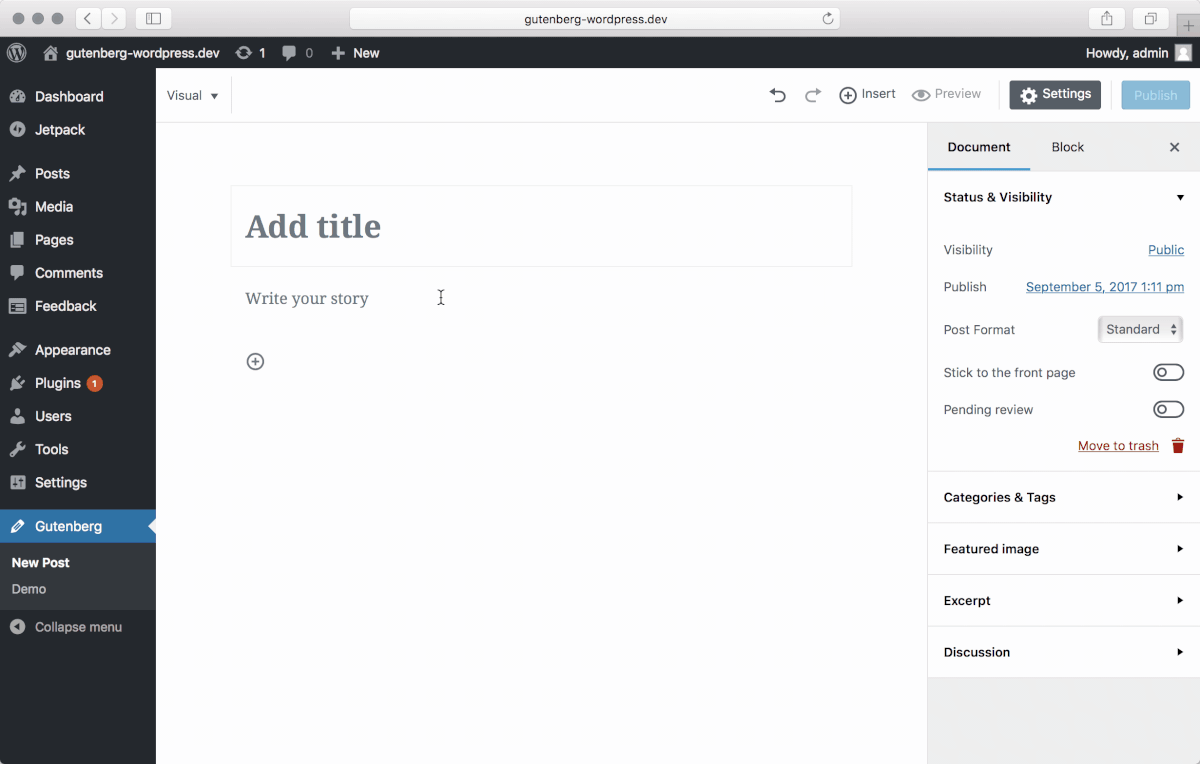 For a while after the official launch of Gutenberg, you will hear what is known as the "Classic Editor," which is the old way and style that WordPress once used.
But I can say that WordPress won't get rid of what made it so popular and well-respected. Gutenberg gives that easy access and enrichment of text, content, and plugin ability to bloggers, non-techies, and new users. But, those who have stuck with WordPress from the beginning or for a while will certainly make sure WordPress' "Classic Editor" won't die, or at least not die hard. There will be that period of transition offered to all users to give them that time to make sure their website flows and is a good fit with Gutenberg.
It will purge a good bit of customization. Because if users want to use the new, better, standard system, they will need to change their projects to accommodate the needs of this new project. So, while a lot of work will be necessary, Gutenberg has benefits. I'll use the example of Blockbuster. Blockbuster was approached by this little, growing company called Netflix and made an offer that Blockbuster refused. Blockbuster insisted that people liked what they were doing and had to give and in 2010, it was officially announced that it would be removed the New York Stock Exchange as their sales and popularity plummeted over the last decade with the rise in online streaming of video (macnn.com).
That is what I believe WordPress is trying to avoid. It will be harder for current users at first, and it may not be the biggest and most used thing on the market. But it will be much better combing a single and more beneficial system in which the plugins and builders can interact with each other to form a more communicative program. WordPress will be on the playing field with the non-techies and people.
---
---
So, is it the death of WP builders?
Not right now. Gutenberg will offer new options and will eventually become the primary use that WordPress wants for its viewers, but as of 2018, your customizations and your current page builders are safe. Do not be so closed off to the idea of this new project. It could offer a lot of new benefits to your site that are only explorable through a test trial of Gutenberg, which you can use and download right now through WordPress website.
I recommend you not to use it on a current site but build a casual one on the side just to play out the effects and new options it has for users.
If you are interested in learning more about this topic, check out TemplateMonster's FREE eBook, with the link below, on the entire Gutenberg Editor subject that is undoubtedly going to take the CMS world by storm soon.
---
Gutenberry - Clean Blog WordPress Theme for Gutenberg editor
Gutenberry is the clean blog WordPress Theme for Gutenberg editor.
Gutenberg provides excellent content editing possibilities, and Gutenberry, specifically designed for Gutenberg, represents the best opportunities for the blog creation. The theme has the top potential to move your blog to the high results possessing the variety of features, fast loading speed, ZeGuten plugin, and trendy and, at the same time, classy-looking design options.
Gutenberry theme has 5 variants of a home page design that also make it possible to edit them any time you need. Crystal has three pre-designed layouts and a subscription form block, Mauve with its light pink colors will suit well for the female audience, Aqua displays light-blue and white colors with a neatly-looking sidebar, which you can enable or disable when you need, Lavender has a clean block, grid layouts, and sleek chess to organize your content perfectly, Nude showcases the trendy posts layout and posts in a boxed chess layout. In addition, you can choose from the 6 unique blog layouts with pagination and all convenient ways to display metadata. They include Classic listing, Classic listing small, Classic listing without sidebar, Classic listing small without sidebar, Small listing grid, and Large listing grid.
Gutenberry possesses the ZeGuten plugin for adding extra content. You can add the following 11 additional blocks of content: Posts, Section, Pricing Table, Banner, Circle Progress, Countdown Timer, Progress Bar, Inline SVG, Image Comparison, Map, and Animated Box.
The clean and trendy Gutenberry theme is fast loading and shows high performance on Google Page Speed and Gtmetrix.
You can make your blog looking unique, without complex modification options and long loads of extra widgets by using the excellent Gutenberry theme.
Obtaining nifty Gutenberrry theme, you'll have an easy-to-work-with template, suitable for a variety of site options, having a number of additional blocks, responsive and showcasing high operating results.
---
---
Other Sources Used
Gutenberg & The Death Of WordPress Page Builders - Hmm Not So Fast...
Blockbuster delisting from NYSE under digital crush
---
---
Read Also
Controlling WordPress User Permissions Using User Role Editor
Wix | What's Your Best Visual Builder? The Unknown Side of the Page Editor
WordPress WYSIWYG Editor Customization
Elementor VS Cornerstone. Is the Game Worth the Candle?
Elementor or Page Builder Sandwich: Which One Is Right For You?
---
---
Don't miss out these all-time favourites