There have been so many changes in the SEO landscape in the past few years. It is not necessary that what worked then, will work now. Today, you need to think about the right SEO tactics that will help in the growth of your company. Plus, you must have heard about Google's 200 ranking factors in their algorithm. So, which all strategies or factors will you focus on for the benefit of your business?

Download our free SEO eBooks:
A Guide to On-Page SEO
Finding the Perfect Website Name
Email Listing Done Right: an Ultimate Guide from Template Monster
Everything You Need to Know About Long Tail Keywords
Getting Started with Google Analytics
SEO Foundations for Small Business Owners
What are the strategies that help you in ranking your page higher in the search every single time? Wondering what you should do? Well, today you're in for a treat as we have made a checklist of a few on-page and off-page SEO techniques that will help you rank your site well on search engines.

On-Page SEO Checklist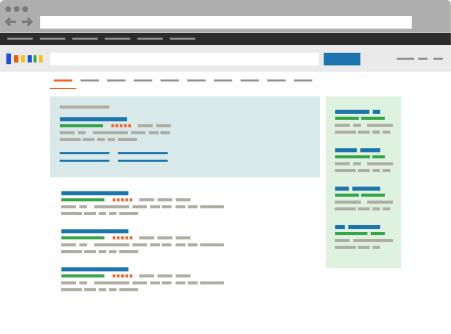 Technical Recommendation:
Boost ranking by Semantic Markup:

Semantic markup can improve your ranking on search engine. Semantic markup means that you are telling the search engine bots what your data means and not what it is about. As a result, bots index the content on your site and return them in results.

Create XML & HTML Sitemap: create XML & HTML Sitemaps are significant for your homepage SEO. You can create sitemaps from XML sitemap generators

and submit it to Google webmaster tool for indexing your page.

Have a Creative and Unique Domain Name: w

e advise you to choose a single, different domain name for your website. For example, Quicksprout and Backlinko are two sites whose names are unique but attractive.

Country TLD Extension: i

f you want to rank higher in a particular country, you must choose a Country TLD extension (.in, co.uk) as it helps you to boost your local search ranking. However, make note that it limits the global ranking of your website.
Be Consistent With Your Domain: i

t is important to stick to your www or non-www domain name on search engines for better SEO. Also, you should use 301 redirects actually as it helps to preserve the SEO value of a particular web page, by transferring page rank, domain authority, etc., to a new page.

Optimize Your Robots:

a Robots.txt file tells Google and other search engines what pages on your site you don't want them to index. It is just the opposite of sitemaps.

Create a Responsive Site: with more and more people accessing the net through their smartphones and other devices, it is crucial to creating websites that work across platforms. Also, Google recently announced that they are moving to a mobile-first index. Google favors the site that is mobile responsive.
Use SEO plugins: the list of SEO

will help you in your search engine mastery

Check For Broken Links:

one of the important SEO tips to remember all time that a single broken link can impact your search engine ranking and usability. Broken links stop the search engine crawlers from indexing a page. This means that if there is a broken link, the search engine crawlers will leave that page and move on to the next one. The pages that they don't crawl are not indexed or ranked. Yoo can check broken links on your site by clicking on

www.deadlinkchecker.com

.

Add BreadCrumbs: b

readcrumbs tell users how to navigate through a site. They help visitors and search engine robots from getting lost while going through your website. In short, they make a website more accessible.
Content:
Place Your Site's Content Above The Fold: a

bove the fold is something that users see as soon as they land on your page be it images, text, videos, etc. Google wants a site's main content above the fold and so do users so that they don't have to scroll much. Trust me; it

pays to have content above the fold. Alo, make sure that the content you publish is original. You can check the

siteliner.com

to know if your content is duplicate and has broken links or not.

Use H - Tags, Alt - Tags To Get More Traffic: t

here is a boost in your rankings on using H1-H6 elements in your content. They help in organization of your page. Similarly, adding Alt tags help in image optimization. They help search engine bots to index the text associated with the images.
Write Meta Title and Descriptions for Better SEO: m

eta description is a short paragraph of text explaining what content is all about. A meta title and description can influence the decision of the searcher if they want to click on your content from search results or not. The more detailed, attractive and relevant the description, the more likely someone will click through.
Keyword Research:
Keyword Placement Still Matters: the placement of the keywords in your content still matters for getting your site found on search engines. The frequency of keywords can be less, but they have to be at appropriate places such as page URL, headlines and subhead, text, bulleted or numbered lists and links.
Internal Contextual Linking On Long Tail Keywords: i

nternal contextual linking is the clickable text within the content. The contextual linking can be done on long tail keywords for a better SEO.

Use Keywords with Capitals:

highlight the keywords by using capital letters for the first letter of each keyword. Apart from helping in SEO, they will also tell readers of the relevant information.
---
OFF-Page SEO Checklist
Set Up Google Webmaster & Google Analytics Account:

setting up these two tools will help you get an in-depth analytical insight into your website's traffic and performance.

Exclude Internal Traffic In Google Analytics: e

xclude Internal IP addresses from Google Analytics will give an accurate data of the performance of your website.

Submit Your Site to Search Engines: s

ubmitting your site pages to search engines such as Yahoo, Bing and Google boost your business. You can get your free business listing on Google by clicking on

www.google.com/business

.

Create Social Brand Pages To Boost Ranking: c

reate your business profile on all social media platforms such as Facebook, Twitter, Linkedin, Google+, etc. to get more organic search traffic and rank well in SERPs.
Use Google's Disavow Tool To Boost Ranking: w

ith Google's link disavowal tool, publishers can ask Google not to take into account certain links while assessing your website. Click on

www.google.com/webmasters/tools

for using this tool to your benefit.

Use Google Keyword Planner: t

his is keyword research tool that allows you to find the right keywords to target for display ads, content, etc.

Submit Your Site & Blog Post Regularly on Social Bookmarking Site: the benefits of s

ocial bookmarking are that it helps in increasing traffic to your site, increases visibility and branding and get you more links.
- business.trustedcompany.com
Participate in Forums & Q/A Sites:

Q/A Sites such as

Quora.com have become increasingly popular in the last few years. It makes sense to participate in such forums and sites for increase brand awareness.

Run Paid Ads On Different Platforms: r

unning paid ads on social media platforms such as Facebook or PPC Ad Campaigns expand your reach.

Build Backlinks with Infographics: p

eople love visual content. An excellent infographic can help you create backlinks and enhance the SEO of your site.

Do Guest Blogging: g

uest blogging is on of the best ways to build quality links. Posting on high quality and relevant websites not only increases your traffic but build a relationship with your readers.
Grab the Broken Link Opportunities: l

ook out for broken links on relevant sites and point out any existing ones to the website owner. You can then ask them if they would be interested in replacing the broken link with a link to your related article so that you can get a quality backlink.

Prevent Website Downtime –

Try and avoid downtime by choosing the right host for your site. Some reliable hosts are Bluehost, Hostgator and Bigrock.
---
Parting words
So, here it is! This SEO checklist of 30 on-page and off-page tactics will help you increase your website's rankings on search engines. Bookmark this list and use it everytime you publish a new blog post or create a website. Like success does not happen overnight, be persistent as your ranking on Google will increase, eventually.

---
SEO audit by TemplateMonster Service Center
Do you need your website be visible to your target audience in search engines and you don't know where to start? SEO audit is the first step to creating an online marketing strategy that really works. You will get the analysis and guidelines on how to implement the given recommendations within your website.