Calligraphy For Beginners. I've got a question for you. Can you create beautiful hand lettering using a simple pen or pencil?
I must confess that I rarely write in real life. The hand lettering is hardly one of my strongest traits. I type or tap almost all the time, which is why I am losing my hand lettering skills. I get into embarrassing situations from time to time because of that. So, I prefer to avoid writing but it's not always possible, that's why all my paper documents that should be filled out by hand look like childish scribbles (shame on me!)
Do you have the same problems with your lettering? If you were searching for hand lettering tutorials for beginners you definitely have them. Tutorials from the hand lettering artists are just what you need.
What are you going to do anything about it?
Like learning hand lettering or playing with the premium font for example.
Great!
Let's study calligraphy for beginners together with a collection of lettering & calligraphy guides, including brush & pen lettering guides.
By the way, there is one more reason why I want to learn calligraphy. I take it as a form of art. We don't learn art because of its use. Some people think of calligraphy as a meditation. It helps them to disconnect with the world around them and just focus on the hand lettering art.
Learn hand lettering art from pros. Master lettering and begin recording you own brush lettering tutorials.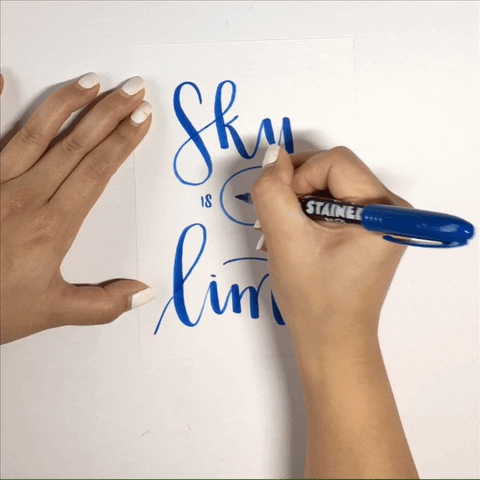 ---
What Things Do We Need In Order to Start?
- A Pen [Calligraphy For Beginners]
A sketch calligraphy pen will be OK, hassle-free and easy to use for beginners. You can find plenty of them on Amazon or any other resource of your choice.
However, you need to be familiar with calligraphy tools. There are fountain pens, dip pens, brushes, brush pens, markers, etc. If you're interested in Old English or Fraktur, you'll want a chisel-tipped dip pen or stub tipped fountain pen nib. You can find Speedball calligraphy sets for dip pens starting at under $10 in many art stores along with India ink or Sumi ink.
If you want a more portable tool, you'll want to take a look at the Pilot Metropolitan with which you would use only with fountain pen ink, whereas you can use fountain pen ink with a dip pen. If you're interested in Spencerian or Copperplate, you will want either a dip pen with a flexible nib (also see the Speedball set), a brush pen (see Platinum Carbon Brush Pen for $5 which takes fountain pen inks) or a fountain pen with a flexible nib.
For Japanese, Chinese, or Korean you will want a calligraphy brush, for example, search for "Chinese calligraphy brush". These can also be found in many art stores for around $3-10 each, along with Sumi ink. Brush pens can also be used for this, but it is difficult to achieve proper form since the brushes are designed to maintain their shape and remain inked even after writing.
For writing in Arabic, Hebrew or Sanskrit, you will want to find a fountain pen with an "Architects Point", which is often used for these scripts, or a dip pen with a similar nib.
---
- Paper [Calligraphy For Beginners]
You will need thick A4 sheets [160-250 g/m2]. Choose paper with lines to keep a check on the height/width of letters. Try to make the strokes within the line.
---
- Font [Calligraphy For Beginners]
There are plenty of fonts that you can make use of, but you'd better start with just one. Don't try to skip this training step. Be ready to spend a considerable amount of time working on one font. Practise in writing all alphabets, both small and capital letters, of a specific font. Your diligence is the key to success.
Ask yourself a question: is there a certain style that you want to learn?
Copying straight from consistent writing examples or alphabet charts is a working technique. If you're looking for a more delicate and connected style such as Copperplate or Spencerian, or if you want to learn something that doesn't use an alphabet such as Japanese or Arabic, you'll want to pick up a book or specific guides for those styles.
---
- Video Tutorials [Calligraphy For Beginners]
Watch YouTube videos, that'll spark your creativity. You can start straight away with some calligraphy for beginners video tutorials gathered below.
---
Hand Lettering for Beginners - Video Tutorials
How To: Calligraphy & Hand Lettering for Beginners! Easy Ways to Change Up Your Writing Style!
Beginners Guide To Doing Calligraphy with a Pencil
How To Calligraphy & Hand Lettering for Beginners! Tutorial + Tips!
---
Brush Calligraphy Poster Art for Beginners! | EP-5
---
How To Start Writing Calligraphy
---
How to Write in Cursive
---
Calligraphy Basic Strokes
---
Calligraphy Writing for Beginners, Calligraphy Styles: Holiday
---
Calligraphy for Beginners with Normal Pen
---
Calligraphy for Beginners: Sharpie Art - Letter "D"
---
Gothic Calligraphy for Beginners with Normal Pen
---
Faux Calligraphy Basics Tutorial
---
Calligraphy For Beginners: Basic Strokes
---
How to Learn Calligraphy for Beginners | Free Template (Basic Strokes Tutorial)
---
TemplateMonster Calligraphy Fonts
Carmelia - Modern Calligraphy Font
---
Miya Wayne - Modern Lovely Cursive Font
---
The Austin - Handwritten Cursive Font
---
Winsthen - Handwritten Font
---
Virgiluna - Modern Calligraphy Font
---
Speak up!
Did you like this article on best calligraphy themes for beginners? Are you going to learn creative lettering? Do you consider the above 'how to learn calligraphy' tips & tutorials useful? Please let me know about your impressions in the comments section.
Don't forget to share DIY lettering with your friends on social networks.
You may also like to take a look at the following related posts:
---
Related Posts
---
Have a nice day!
Cheers : )
---